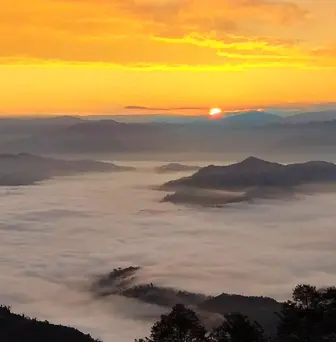 They say gratitude is the best attitude, watching the sunrise and set helps one stay grateful and inspired. If you are someone who keeps chasing sunsets, the charming town of Nagarkot is the place to be. Popular among both locals and tourists you can witness the spectacular beauty of the sun and the areas surrounding it from the comfort of your hotel or by visiting the popular view tower. Located at a short distance of 32 km from the capital city of Kathmandu, the laidback hills of Nagarkot have a lot to offer to visitors. It is a small hilly settlement untouched by the passing of time.
Many beautiful five-star properties are situated on this hill making it easier for travelers to enjoy their stay. For those who want a different experience, camping can be an alternative. From panoramic mountain views to stunning sunrise and sunset, many things can be seen and achieved in Nagarkot in a short amount of time. Changu Narayan Temple, a UNESCO World Heritage Site and one of the oldest temples, is only a short hike away from the village. Surrounded by greenery all around it is an excellent choice for hikers, nature lovers as well as mountain biking enthusiasts.
text form https://ntb.gov.np/nagarkot-sunrise-and-sunset
Niru Yoga Homestay with yoga retreat center is also located in Nagarkot Village Down Phedi. We are 4 km far from Bhaktapur city and 11 km below Nagarkot hill station.