Before booking yoga meditation retreat package please read below.
Best yoga retreat in Kathmandu valley .
Welcome:
Please note: Niru Yoga Homestay has a capacity of 20 people at a time. When not fully booked, we will always try to provide as many people as possible with a private room (for shared room price). In case more people book, it is possible you share the room. 
Only if you book a private room, you ensure you have a private room for the full duration of your stay. please follow the yoga retreat booking online form or direct email us.
after booking if you confuse please show our Nepali Address to the driver or local shopkeeper.
When you book, please tell us your gender. In Nepal, we can not provide a shared room for people of different sexes.
If you have a problem sending a booking? email to info@katmanduyoga.com or bookyoganepal@gmail.com
or Call: +977 9851106408 (WhatsApp, Viber, Telegram, WeChat)
direct contact through social media (Instagram, Facebook)
FOR BOOKING PLEASE SEND 20% AMOUNT IN BELLOW OUR BANK ACCOUNT FOR CONFORM BOOKING.
Bank Name: Machapuchere Bank Ltd.
Account Holder Name: Rajan Bastola
Account Number: 025-0045-4801-000-14
Branch Address: Bhaktapur
Swift Code: MBLNNPKA
Scan and pay direct bank.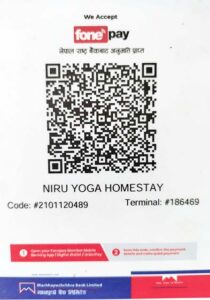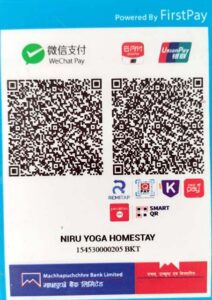 CANCELLATION POLICY
The deposit is fully refundable if the booking is cancelled up to 5 days before the arrival date.
The rest of the payment should be paid on arrival.
AFTER BOOKING
Thank you for booking.
Please check our location map in the contact page. Please visit our website for our location and other information.
if you need other help please email us.
– Please bring your water bottle because we have unlimited drinking water.
– Please bring normal shoes for hiking no need for special shoes.
– For rain time bring a raincoat.
– for wintertime, we have a minimum of 1-5°c and a maximum of 14°c temperatures so bring a warm cloth.
– we have a yoga mat so no need to bring your own mat.
Mobile: +9779851106408 (Personal); 9840484004 (office) (I can not answer during the Yoga Class: morning 8:30 to 10:30; evening 5:30 to 7:30)
ADDRESS IN NEPALI LETTER FOR DRIVER (PLEASE SHOW NEPALI ADDRESS TO DRIVER)
कमलबिनायक बाट ४ किलोमिटर अगाडी
नगरकोट फेदी, खरिपाटी, (खरिपाटी पुलिस चाैकीबाट २०० मिटर अगाडी)
तेलकोट भन्दा ३ किलोमिटर तलै
Phone (Mobile)
+977-98511-06408 (personal, WhatsApp, Viber, Telegram); 9840484004 (office)
Website
www.niruyogahomestay.com
Email
bookyoganepal@gmail.com
If you need taxi please lets me know.
Taxi charge $20 for day time and night time extra $5