Namaste everyone, in this post we publishing Yoga Poses information even Steps, Benifit, & Precaution. please follow our instagram "yoganepal" and if you have any question please email us or contact us for more details.
This information posting by "Sampurna Yog book" by Yogi Rajan Bastola from Niru yoga & hiking retreat, Kathmandu Nepal.
We post time to time new yoga poses in this articles.
Gomukhasana (Cow Face Pose)गोमुखासन

Gomukhasana is named from Sanskrit words; 'Go' meaning cow, 'Mukh' meaning face and 'Asana' meaning pose. It is literally difficult pose to practice. It provides
flexibility to the body parts.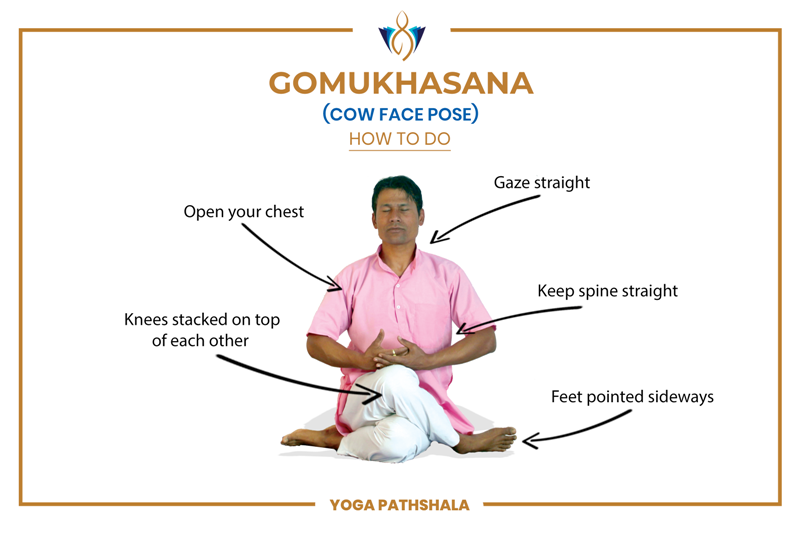 Steps
Sit on the ground or mat with your legs stretched out in front of you. Bend your right leg and place it under the left buttock. Fold your left leg and place it over your left thigh. When you sit in this posture your knees look like the face of a cow.

Fold your right arm and place it behind your back and take your left arm over your right shoulder, and stretch it as much as until it touches your right hand.

Keep the trunk erect and expand your chest and lean back slightly. Maintain the posture at least for a minute. Breathe slowly and deeply while doing so. Now change the side in the same way.
Benefits
This asana strengthens body muscles. It relieves shoulder and neck pain and reduces mental stress. This asana relieves pain of waist and back and straighten the spinal cord. It opens chest and provides adequate exercises to the lungs and benefits in respiratory diseases. This asana cures rheumatic patients. It reduces constipation and the chance of having nodules over the body. It also cures hernia as well as other testicular ailments, liver problems, diabetes, gynecological complaints, skin allergies and that syndrome.
Precaution
Not recommended for people having spinal problems.