Six days detox yoga retreat package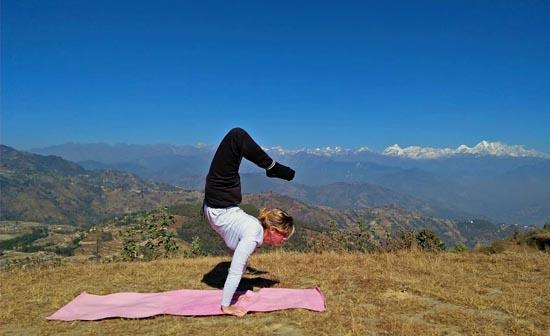 Join a six-day detox complete mindfulness yoga retreat with special sound heling in Niru yoga homestay with a yoga retreat center Kathmandu valley, Nagarkot, Bhaktapur for an amazing week of hiking, trekking, and city and nature yoga retreat in Nepal. 
In this retreat, you will visit natural places and world heritage sites in the Bhaktapur area. More than that, you will also experience daily morning and evening yoga classes, pranayama, mantra chant, Sound heling, Sauna bath, massage with chair, camp fire, cooking class, and other activities.
Daily Activities Schedule
Check in time 1pm (before lunch) 
7:00 am – weak-up 
7:30 am – Tea time 
7:45 am – Jal Neti (Nasal Cleaning)
8:00 -9:30 am– 

Yoga Class: asana, pranayama, sound heling, mantra, & meditation.

10:00am -10:40am – Breakfast & Tea or Coffee

Check out Time (After breakfast)

11:15 am- start hiking
2:30pm – Lunch & Tea
Check in time 1pm (before lunch) 
2:30 pm – Rest time 
5:30 pm – Ayurveda Tea time 
6:00 pm – Yoga Class: asana, pranayama, sound heling, mantra, & meditation.
8:00 pm– Dinner with Tea
8:30pm – Camp fire (Sunday)
9:00 pm- bed time
(Everyday same schedule but different hiking and others)

Spicial sound healing and Sauna bath only Sunday
A clean and comfortable room (hot water/bathroom/western toilet/sheets/pillows/blankets) triple, double, or single occupancy
3 healthy and delicious vegetarian meals per day
 Two daily yoga classes with Pranayam, mantra, mudra, sound healing
 Sauna bath
Massage chair
Sound heling & Chakra healing 
Daily excursions, such as daily walks to nearby waterfalls, cave visits, jungle walks, bird-watching walks, and beautiful treks in Kathmandu Valley and beyond.
 Daily nasal cleaning
Unlimited purified water
Service by a laundry
Cooking Class
Camp fire (winter only)
Play Local Games
 Free high-speed Internet (Wi-Fi) access
Airport pick-up and drop off (extra cost)
Beautiful yoga hall and garden.

Meditation in Jungle
we will not charge guests having an early morning or late flight and arrive earlier or leave later. Please lock your door when you are outside.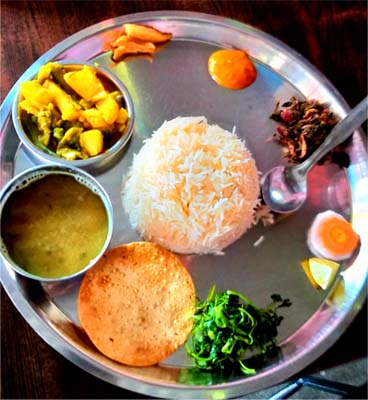 The homestay strives to provide nourishing, clean and tasty vegetarian food. The homestay gets about 75% of its food (depending on the season) directly from our organic homestay farm. Our food is prepared in traditional Nepalese fashion with a wood fire on an earthen stove. At the homestay you can also enjoy all the fruits available ripe from our own trees.
Three meals a day of freshly cooked vegetarian food are provided in the dining area overlooking the mountains to the north of the homestay. The kitchen will accommodate any special dietary needs. If you wish to learn how to make the food at the homestay, you are always welcome to assist in the kitchen.
The menu varies daily and typically includes the following:
(If you have special dietary requirements it's a good idea to communicate it to the organizer when making a reservation)

Ayurvedic herbal tea, coffee, green tea, white tea, porridge with dates and raisins or coconut, bananas, papaya, or chickpeas. 
Other breakfast offerings may include samosa, Pinecake, parantha, uppama, and Nepalese breakfast.
Dal (pulses), Bhat (rice) vegetables (pumpkin, carrot, cauliflower, peas, spinach, etc.), Roti (bread). Khichadi (Mix rice with vegetables)
Pulau (Special rice) with some homemade dinner 
Green Salad (Green vegetables)
US $ 280 
Per person / Shared room charge
Including Everything
US $ 548 
Two person / Single room charge
Including Everything
if we have a room available we can provide a single room with shared room price 🙂 .
Niru yoga homestay with retreat center, Bhaktapur give 10% discount for your booking. please used "YOGA2022" this code to fill our booking form and send us email to get 10% discount for each person.
Note: this discount only for June to August.

Rajan is Certified trekking guide (below 6000m) so he can arrange some virgin mountain yoga trekking (4500m) please contact us