Karma Yoga & Volunteer Job in Nepal
'Karma Yoga' is a new programme designed to give people a chance to teach part time in a local school for one month. The teaching will be for half days, over 6 days each week. There will be about 3-4 classes a day, each lasting around 40 minutes with a break after each class. 
As this is very much a village school (set in the hills), the number of children in each class should be less than 10, with the children's ages around 8-12. Saturday is the free day, which is a holiday in Nepal and on Fridays the school also finishes early so volunteers will have less teaching time then too.
Time: minimum 2 weeks
maximum 12 weeks or depend of time. 
Teaching school kids
English, Math, Science, Dance/music or sports  subject
Daily 2 yoga session
Breakfast & Dinner included
Saturday full day rest even hiking and other work.
Meditation session evening class.
 Room, unlimited drinking water and other facility
and more 
cost is NRS 1500/day shared room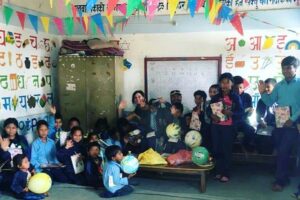 Program details:
in this project we provide working certificate or thank you letter after the project complete 🙂 
Niru Yoga Homestay with Retreat host to other faciality. 
Project start from May 1st to March 31.