Best Sound Healing therapy course in Nepal
Discover the Power of Sound Healing
Welcome to our sound healing course, where you will explore the powerful and healing effect of sound on your body, mind and spirit. We use various ancient vocal sounds and instruments to create a space of inner harmony and stillness. Through breathing and resonance techniques, you can deeply relax and gain access to profound healing.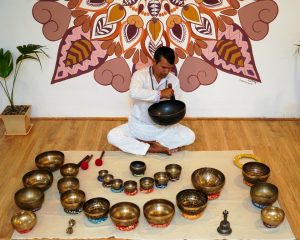 This course offers a unique way to learn about the science of sound healing and how to create your own sound healing practice. You will understand how the physical vibrations of sound interact with your energy to promote balance and relaxation. With the help of our experienced instructors, you can learn the best practices for producing sound and different tools for facilitating sound healing sessions.
Start your journey today and unlock the incredible potential of sound healing. Experience deeper relaxation and embrace your own transformative power.

singing/healing bowls chakra healing training Level 2

Singing/healing bowls group healing training Level 1

 Singing/
healing
bowls training certificate course.
Singing bowl therapy is a holistic healing practice that uses sound vibrations to relax and balance physical, mental, emotional, and spiritual states. It uses various instruments such as singing bowls, drums, gongs, rattles, and bells to create a meditative, calming experience. The practice reduces stress, promotes relaxation, and increases overall well-being.
Thank you for your interest in joining our program! To proceed further, please contact us or read our Frequently Asked Questions (FAQs) page. We also recommend emailing us directly so we can provide you with more detailed information on our program and answer any questions you may have. We look forward to hearing from you soon! 
As part of your stay at our retreat, we offer you three delicious and nutritious vegetarian meals per day. You will have access to two relaxing yoga classes for 3 hours each day, allowing you to take a break from your busy life and reconnect with your inner self. Each day, you can enjoy a peaceful and refreshing hike in nature. Your accommodation comes with a clean and comfortable room, as well as a hot and cold shower, unlimited drinking water, and a sauna bath. Additionally, we also offer a sound healing course to complete your holistic journey.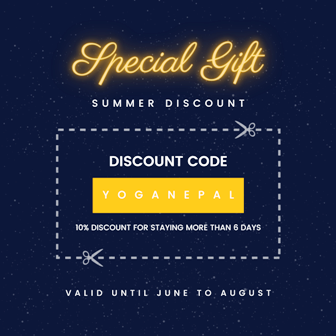 Retreat cost USD 252 including Everything